Defence Force Tour
Adam Dean toured to the Solomon Islands to entertain the Australian troops. The experience was life changing not only for Adam but for the entire touring group. Everyone had a magnificent time entertaining the Australian Defense Force, Australian Federal Police and the local community of the Solomon Islands!
Adam Dean's Grandfather fought in World War II. According to Adams Father, Adam's Grandfather rarely spoke of his time at war. Whilst it was not a pleasant experience for him, he was proud to have been involved in the defense of his country.
Adam's family connection with the Australian Defense Forces is the driving influence in Adam's passion and determination in wanting to travel overseas to war zones to help the Australian Defence Force and the brave troops that are facing times of adversity every day to help the world become a safer, unified place. Adam 's contribution may just give these soldiers something they may be able to tell there kids and grand kids about.
Other artists that performed on the Tour De Force include:
Glen A Baker
Music Guru
Daryl Cotton, Russell Morris
Rock Music Legends
Chris Radburn
Comedian
Adrian Ross
Indigenous Performer
Royal Australian
Navy Band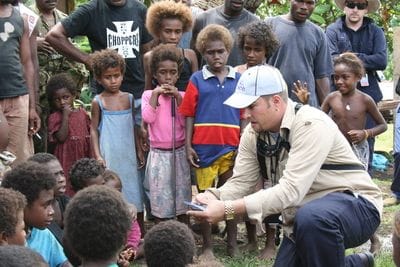 "The concerts are a major morale booster for the men and women serving our nation because they provide a brief period of normality and entertainment in what can be a dangerous and difficult time,"
Tour commanding officer, Lieutenant Colonel Greg McCauley.
Providing entertainment for service men and women abroad has become an Australian tradition since the days of Normie Rowe and Little Pattie in the Vietnam War, right through to Kylie Minogue and John Farnham performing for the troops in East Timor.
For soldiers, sailors, airmen and airwomen serving overseas or in remote parts of Australia, the concerts offer a respite from the pressures of daily training and operations as well as recognition of their efforts. The Forces Advisory Committee on Entertainment (FACE) was established in 1966 to help plan the tours. The original FACE was disbanded in 1985 but was re-established in 1999 in response to the Australian Defence Force operations in East Timor.
Other Australian entertainers who have performed on these tours include:
Tim Freedman from The Whitlams, Kylie Minogue, Merrick and Rosso, Taxiride, Skunkhour, Killing Heidi, Missy Higgins, John Farnham, Area 7, Space Invaders and Kintama, Max Walker, Bessie Bardot, Jon English and his son, Jon Sora-English, Choirboys, Angry Anderson, Tottie Goldsmith, Kintama, Sophie Monk, The Choirboys, Singer Songwriter Drew McAlister, James Blundell, The Avenues, Gretel Killeen, Dick Smith, Roy and HG Nelson, Yothu Yindi, Screaming Jets, Ernie Dingo & Russell Crowe.