Custom Magic and Illusion
I bet you want your product and service should stand out from the pack when you are launching and promoting them. Product launches, trade fairs, expos and other large-scale events is where you can be different and make a huge impact. Utilising magic will take your presentation to the next level.
Custom illusions and magic effects create mystery, wow factor and audience engagement. Illusions like making the CEO of your company vanish from a podium or appear the brand new model of a car are two examples of custom illusions Adam Dean has created.
Adam Dean created a custom illusion for an industrial dishwasher company. The dishwasher stood proudly in the middle of the stage in the factory of the company. The company had all their clients and prospective clients gathered in the factory for the launch of the product. A set of dirty dishes was placed in the dishwasher and it was turned on. To everyone's amazement when the dishwasher was reopened, the dishes had vanished and the CEO of the company magically appeared inside the dishwasher! It goes without saying the crowd were roaring with applause followed by an interactive presentation by the CEO to the clients! This custom illusion created the "Wow factor" the CEO was looking for.
Trade shows present another great forum for custom magic. Crowds of people pass your stand looking for the best companies to do business with. Your stand and products/services are outstanding. All you need is a way to stop the crowds to pass on your information to the prospective clients. Adam Dean stops the passing crowd, engages them at your stand, and delivers your key messages that capture prospective clients, then your team closes the deal.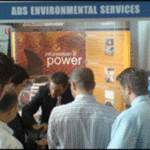 "Thank you for making our company booth display at the OzWater conference such a great success. We've never had so much interest and excitement at our stand, and we certainly appreciated your many references to ADS in your show. Involving the audience (our clients) in the way that you did was not only hilarious, but will ensure that ADS is well remembered for some time to come. We had a blast!"
Peter Vogelaar, Business Development Manager - ADS Environmental Services