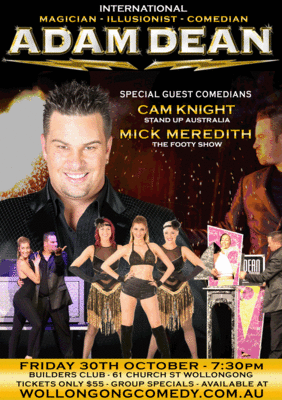 Biggest show of the year!
This is your opportunity to see my Las Vegas style show! On the 30th October 2015, at the Master Builders Club in Wollongong, I will be performing my biggest show of the year and I am inviting YOU!
The show features spectacular grand Illusions, sidesplitting comedy magic, glamorous showgirls and hilarious audience interaction. This is the most exciting style of show I have ever performed!
If that's not enough to peak your interest, there are two very special guest comedians opening the show, Cam Knight and Mick Meredith. Both of these guys are at the top of the game in the world of comedy and are sure to have you in stiches.
This is a 2-hour show you won't want to miss!
Master Builders Club in Wollongong
30th October 2015
For full show information and tickets go to
wollongongcomedy.com.au